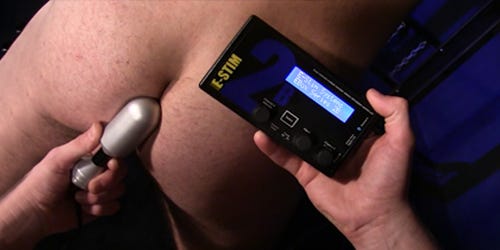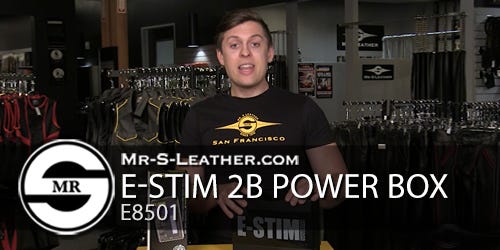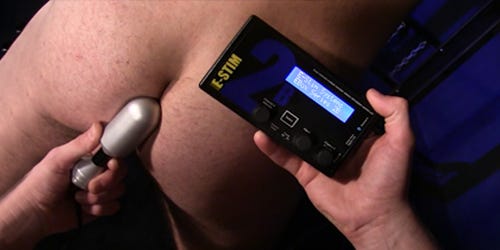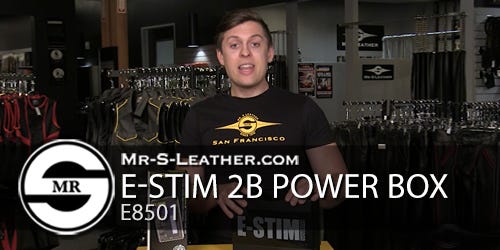 THE 2B™ Power Box

It took over 3 years to develop the first 2B, and it continues to feature regular updates to its software and accessories, resulting in one of the most powerful and versatile E-Stim power boxes available on the market today. Officially called the Series 2B, or 2B for short, if you are looking for more power, more control, and more options then the 2B is your only choice.

Display & Control

The clear backlit LCD display on the 2B shows you exactly what your unit is up to all of the time, with an enhanced user friendly display and control system making it easy to use and giving you even more control. There is no need to learn any funny codes or count flashes. A built in help display guides you through mode selection, whilst the back light options allow visibility in the darkest dungeon or play space.. Changing mode is simple - A couple of quick button presses and the twiddle of a knob to choose 1 of 17 modes. It's simple. It works.

More Program Modes

The 2B has 17 fully adjustable program modes. With all of the more standard modes present, we have added some new ones so you can now throb and thrust your way to e-stim ecstasy and pleasure. Split modes, tickle, and programmed wave functions all pack the 2B with hours of e-stim pleasure - and since the 2B is upgradeable, you can add new modes and functions when they are released.

Internet Control

The 2B is fitted with the hardware for an optional Digital PC link which allows you to control your 2B directly from your Windows PC or Mac via a USB connection, and the free Commander software also offers computer to computer control over the internet. Dual Isolated Channels

The 2B features two completely isolated output channels, with independent controls on each channel. This allows you to use multiple bipolar electrodes at the same time, and be able to control them both, independently. The output LED's light up in proportion to the output levels so it's possible to see what's going on without consulting the main display. With the join mode it is possible to join both channels together, giving safety and control in one and with the Triphase cable set, even more possibilities are available. (Think 3D Electroplay).

More Power

The 2B can be powered via single 9V battery, or an optional universal mains adaptor - the choice is yours. With dual power settings so you can run in low or high power, and each power setting is controllable from 0 to 100% in 1% steps. Low power gives an excellent introduction to E-Stim whilst the high power setting offers really serious levels of output designed to satisfy the most ardent electrosex player, without causing too much pain!! And if the standard high power mode is not enough then you can connect the optional universal mains power adaptor (110V/220V) giving you around a 30% increase in power output as well as longer play times.

Warning the 2B is considerably more powerful than many of the units available today you have been warned.

Audio System

The 2B is fitted with an adjustable sensitivity built in microphone (no external microphone to break off or loose) and the 2B also offers true stereo processing, via a 3.5mm stereo input. Designed to plug into the headphone socket of an MP3 or CD player,(we even supply the cable) each audio channel is translated to a powerful controlled pulsing output. As an additional control it is possible to adjust the whole response of the audio processing system, providing a unique insight to stereo based E-Stim. Unlike other audio triggered stim units the 2B is designed to use normal audio sources as well more specialized E-Stim audio tracks, a number of which are supplied on an Audio CD.

Safety

With output channel isolation, built in power limiting and soft start controls (they always start at zero whenever you change a mode or switch the unit on), together with a design ethos that stresses safety at every stage the 2B has been designed to be compliant with all of the major US, UK and European safety standards, and carries a CE mark.

Lightweight and portable

The 2B is compact and lightweight. Don't be fooled by it's small size!

A Complete Solution

With all of our e-stim technology you are not just buying a box, you are purchasing a serious introduction into the E-Stim world, from a company that is dedicated to producing the best in E-Stim technology. We include a comprehensive instruction manual as well as a protective carry case and the batteries and cable you need to get started. and don't forget the 2B is covered by our lifetime guarantee.

Lifetime Guarantee

The 2B is protected by a lifetime guarantee.
Specs
Included In Box

Dual Isolated Channels via 3.5mm mono sockets

Backlit LCD with High Brightness LED's indicating Channel activity

17 Program Modes

2 Audio Modes

Internal Microphone

Stereo Source via 3.5mm Stereo socket

33KΩ/500mV

Controls Independent Controls

Waveform BiPhasic AC

Standard 9 Volt Alkaline (PP3)

Optional Power Supply (145mm x 80mm x 50mm (5 3/4" x 3 1/4" x1"))

Weight (with batteries): 500g

2 off 3.5mm to 2mm output cable

4 off Self Adhesive Electrode Pads

1 off 3.5mm Stereo input cable

1 off PP3 Battery

1 off Audio CD

1 off Carry Case

User guide.