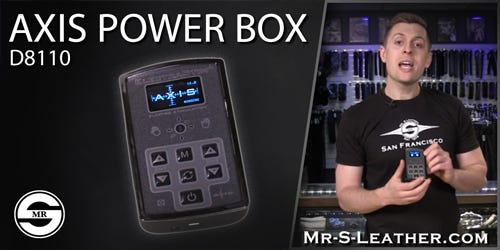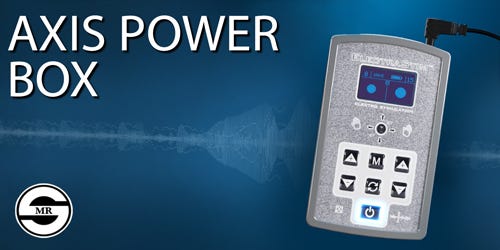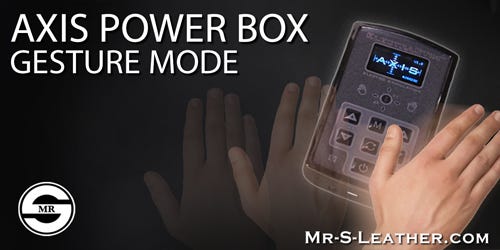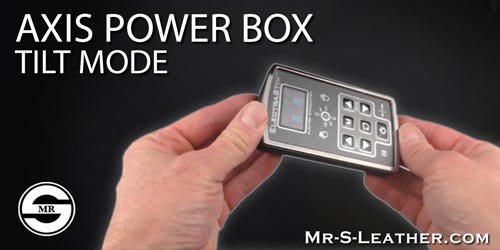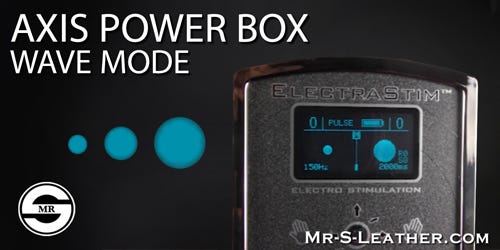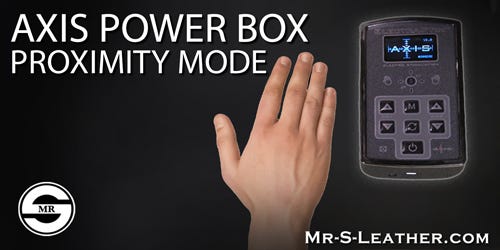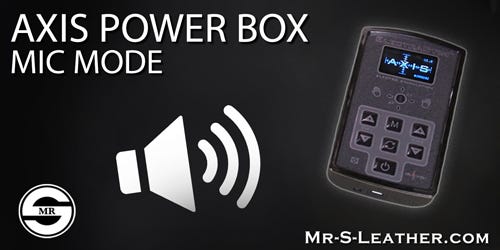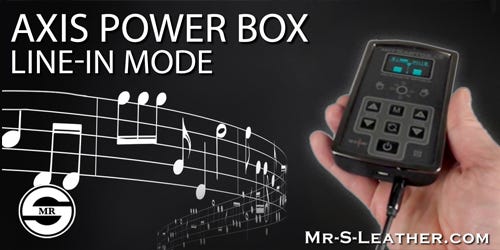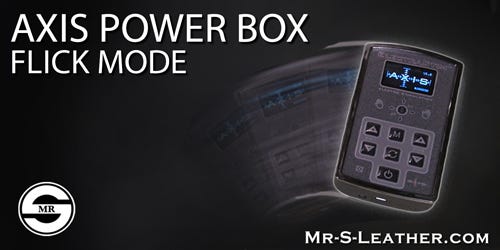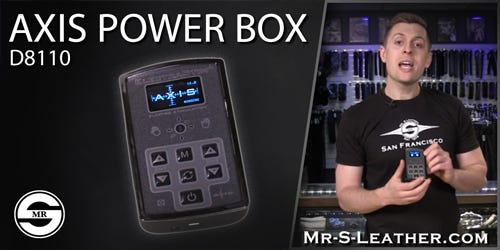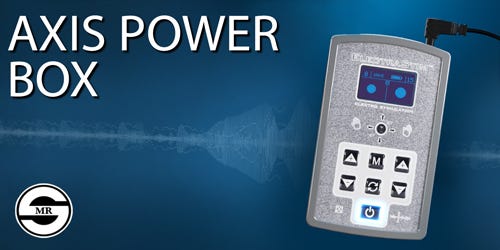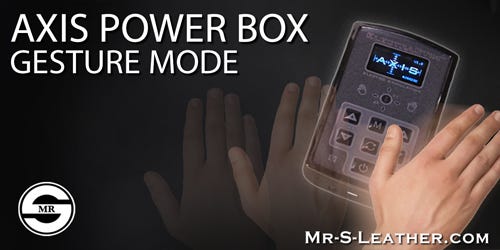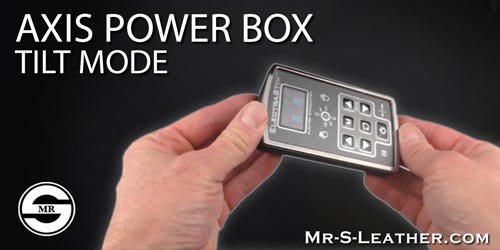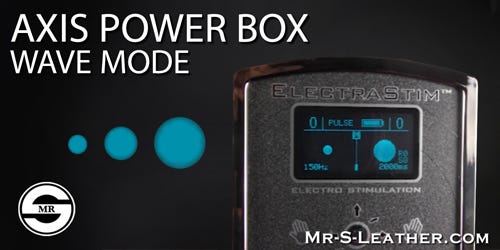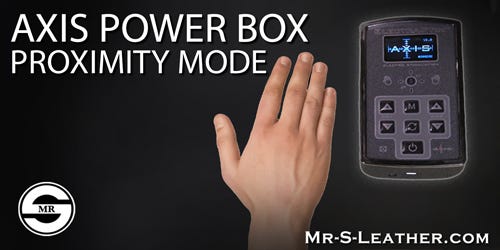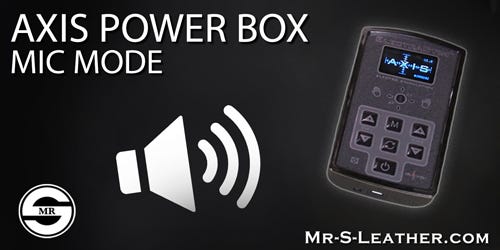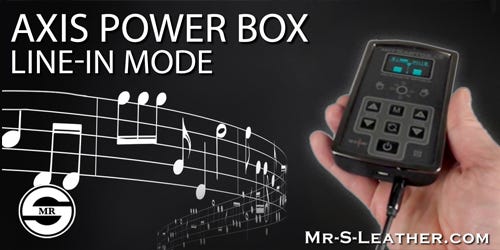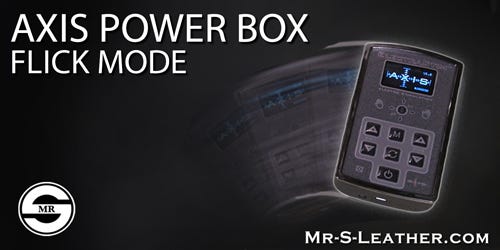 Axis Power Box

This is the highest tech power box we've ever carried that has enough features to keep you engaged for the long haul.  Plus, it's extremely intuitive so even someone new to electricity can benefit from its features.  Axis by ElectraStim is a high-spec dual output electro sex stimulator that is the first in the world to incorporate multiple input sensors for a truly customizable e-stim experience.

You can control Axis with tactile buttons, a flick of your wrist, a wave of your hand, the sound of your voice or even the proximity of your partner's body. This power box gives you the freedom to control electro play your way- the only limit is your imagination! The revolutionary technology inside Axis is a world first for the electro sex category and nothing quite like it has been previously attempted.

Outputs

Axis has dual isolated outputs each of which can be controlled independently to cater to specific body parts or players with different sensitivity levels. You'll be able to connect 2 bipolar or 4 unipolar toys at any one time. Axis boasts the same output power as the popular SensaVox unit but with the ability to break it down to 50 distinct intensities to provide anything from a mild tingle to a full-on contraction. Experienced electro fans will not only appreciate the level of power but also the smooth and concise delivery of every wave or pulse.

Play Modes

With no less than 7 different play modes Axis will ensure that your electro stimulation sessions are a truly immersive experience.
Play Modes
Wave – For those who want the work to be done for them ElectraStim has incorporated their most popular wave and massage patterns. Just select the one you want to try, set your intensity and Axis will do the rest. Choose from 11 different Wave patterns.
Pulse – These patterns provide a more edgy stimulation style where higher intensity levels will make you clench and contract. Choose from 12 different Pulse patterns.
Flick – ElectraStim's patented Flick mode is back and better than ever. The high-spec triple Axis accelerometer means that Flick mode extremely responsive so you can enjoy 'virtual spanking' or 'virtual wanking' when combined with the appropriate accessory. Choose from 5 different Flick options.
Flick – ElectraStim's patented Flick mode is back and better than ever. The high-spec triple Axis accelerometer means that Flick mode extremely responsive so you can enjoy 'virtual spanking' or 'virtual wanking' when combined with the appropriate accessory. Choose from 5 different Flick options.
Proximity - Do you love the feeling of sharing electro sensations with your partner but wish the control was a little more natural in the heat of the moment and you could create your own stimulation patterns? Proximity Mode lets you set your maximum intensity level then create your own patterns by using the sensor on the front of Axis. You can simply wave a hand towards and away from the unit to play with the stimulation, but the fun really starts when you use the proximity of your partner's body to control the sensations. Proximity Mode means that each wave, thrust, or movement in front of the sensor will send uniquely timed stimulation to your connected accessories. The closer any part of you is to the sensor, the more intense the stimulation. Set your desired intensity for each channel then use Proximity to manipulate the ebb and flow of the stimulation. The closer you get, the stronger the sensations. The only limit to this mode is your imagination. Try placing Axis between you and your partner during sex to control the electro stimulations with the proximity of your bodies! Choose from 5 different Proximity options.
Microphone – The built-in microphone in Axis means using your voice to control the e-stim sensations is easier than ever. This high fidelity mic has 10 sensitivity levels so you can cater this feature to your exact needs. Choose from 5 different Mic options.
Line In - Digital Signal Processing technology takes audio control to a whole new level with stereo-stim input. This mode lets you play your favorite tunes from a phone, computer or other device to control your Axis power box. There are literally limitless pattern and sequence possibilities when using stereo sound input. Choose from 5 different Line-in options.
Gesture Mode

As well as using the tactile control buttons to control Axis you can also do it with contactless gestures. When in Gesture mode, every feature of Axis can be manipulated with a wave of your hand. Pass your hand vertically upwards over the unit to increase intensity for both channels, or wave downwards to decrease both channels. A sideways gesture to the left increases the intensity of channel 1, while the same movement to the right will increase channel 2. You can also cycle through the menus and change patterns with these gestures. There is a built-in "Practice Gestures" feature that allows you to get the hang of it before trying it for real. The buttons will still work as normal in Gesture mode but gives you the option to avoid touching the unit at all. Perfect if your hands are lubey or busy! As with the Proximity mode you don't have to use your hand to operate this mode. Any distinct movement in front of the sensor will work, whether that's a hand, an arm, a leg or a spanking paddle!

Eco Friendly plus 100% Performance, 100% of the Time

Axis features an environmentally conscious Lithium-Ion battery that is easily recharged with the supplied USB cable. A battery fuel gauge constantly monitors your use of Axis for an accurate idea of how much power you have left at your current stimulation level. Depending on use, your Axis power box can provide up to 8 hours of play from a single charge and will recharge to 80% in under an hour. Unlike other electro devices on the market the Axis has a regulated output that will provide the same amount of stimulation and will not drop unexpectedly no matter the battery level. For example, level 10 will always feel the same whether you have 99% or 9% battery remaining.

Updatable

Axis was designed to give you many years of happy electro play so the firmware will be periodically updated to provide new patterns, new features and to improve performance. All you'll need to do is plug it into a PC or Mac using the included micro USB cable and follow the instructions provided at us.electrastim.com/axis to quickly and easily ensure you have the most up-to-date version of firmware installed.

Accessible

Not only are the Gesture and Proximity based modes within Axis a lot of fun to experiment with, they have also been developed with accessibility in mind. Users with reduced dexterity who may find traditional button or dial controls awkward will be able to control Axis hands-free in the heat of the moment. A few button presses are needed to get started, but once these advanced motion sensors are activated, these modes are easy to operate.

Technology

Boasting a high speed 32-bit ARM Cortex micro-processor, Axis can process input data in real-time and translate it into high-quality, ultra-smooth stimulation signals. Multiple internal timers and communications interfaces have allowed us to also integrate a revolutionary gesture/proximity sensor, a 12-bit triple-axis accelerometer and battery fuel gauge - all displayed on a bright and crisp OLED graphic display. As with ElectraStim's Flick and Flick Duo stimulators, Axis has fully regulated output control circuitry which means that stimulation levels do not drop as the internal battery discharges. Whether you use the in-built microphone for voice control or the line-in to utilize sound files on your computer/smart phone you can be assured of the purist sound control thanks to the implementation of DSP (Digital Signal Processing) algorithms.

Peace of Mind

Axis comes with a 1-year warranty as standard which can be extended to 3 years for free. All warranty registrants will also be contacted directly when new firmware updates are available.
In The Box
Branded Storage Space
Axis Power Box
Belt clip
USB charging/data cable
Stereo Line-in cable
2 x ElectraStim accessory cables
4 x conductive pads
Reset pin
Quick Start Guide
Warranty Card