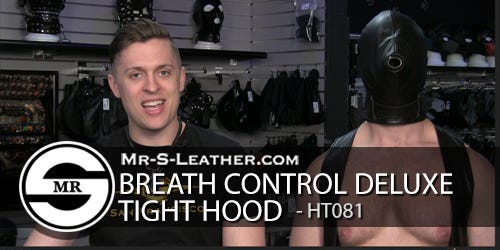 Breath Control Deluxe Tight Hood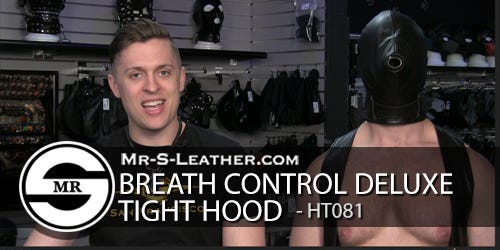 Breath Control Deluxe Tight Hood

The Mind Fuck can start with controlling the bottom's head. This New Deluxe Tight Hood from Mr. S does just that. This hood is like no other that we have made in the past and even if you now have a hood or two that you really like, you'll want to add one of these new Breath Control Hoods to your arsenal. We have added an inflatable rubber medical breathing mask to the Inside of one of our remodeled Deluxe Tight Hoods. Your head is completely encased in soft tight leather while your nose and mouth are covered by the rubber mask inside. When all the back laces are pulled tightly, your sight is completely gone, your sense of smell, touch and sound is enhanced and you'll fall back into a feeling of willing surrender. You'll start to get hard, just as the laces are being pulled tightly over the back of your head.

This new leather lined hood is actually very easy to breathe in as you're breathing thru Both your mouth and nose at the same time. Easy to breathe in, unless someone covers the one hole that gives you your air. This hood can be used for 'long-term' bondage scenes as it's so comfortable and the breathing is more than adequate when the opening is unrestricted.

A locking leather collar completes this magnificent form-fitting, head encasing hood. We are proud to offer, not only this hot looking new hood, but also because this hood functions like no other in our line of some 45 styles. It feels great while wearing it and as a Top, you'll love the way your bottom looks in it. Even if you're not using it for breath control, it works just as well as a sensory deprivation headpiece, isolating the mind and even inducing the sensation of an out of body experience.

One of our favorite slogans we always used on the Mr. S Dungeon site was...."We want to fuck with your mind, as well as your body" Well, this new hood does just that!