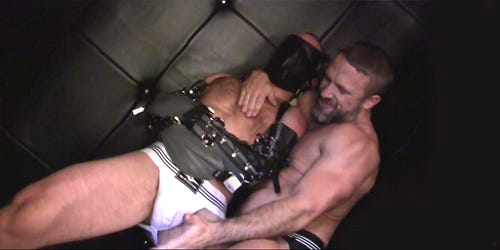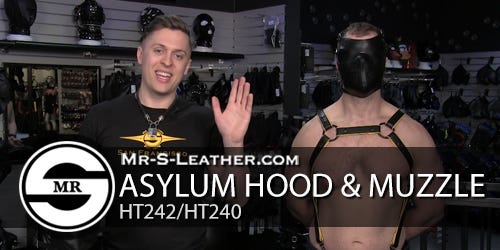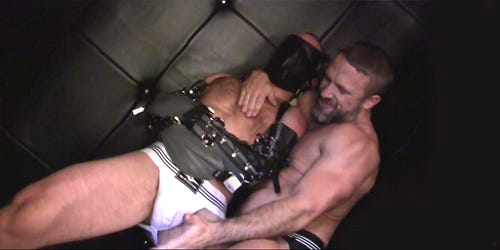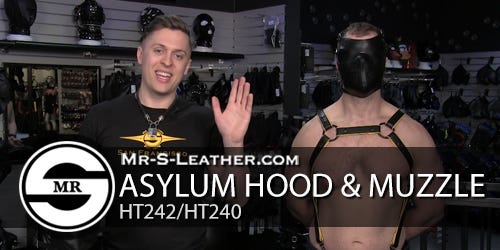 Asylum Muzzle 

Sensory Deprivation is not only sexy and mind fucking but it is also a signature of Mr. S Leather Bondage gear. All our hoods are intended to isolate the body and fuck with the mind. The Asylum Muzzle is a new take on our best-selling Asylum Hood. We like to think of it as the Asylum Skeleton. Use it as a muzzle, a blindfold or better yet, both. What makes this piece unique is that the muzzle doesn't cover the entire head, so it's perfect for those long, hot bondage sessions. He won't be able to see or really say much, but he'll be able to hear every command you give him. We've added a zipper in the back which makes this easy to get on and easy to get off when you're done. Made of soft, garment leather this piece is comfortable even for an overnight scene. 

When using this piece for the first time we recommend attaching the blindfold first. Not only does this make it easier to fit, but once the muzzle is attached, it makes sure there's absolutely no light coming in. 

Both this muzzle and the blindfold coverings are bucked to the sides and top of the hood when you want to isolate your boy completely. When not using these two covers, you have open eyes so your boy can see what you're going to do to him or an open mouth so he can get down and take care of your cock.