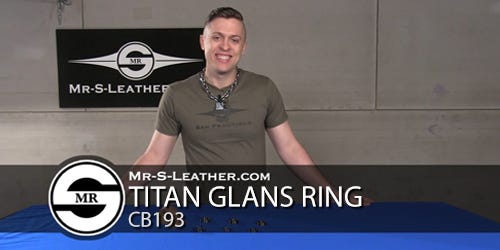 Titan Glans Ring .4" High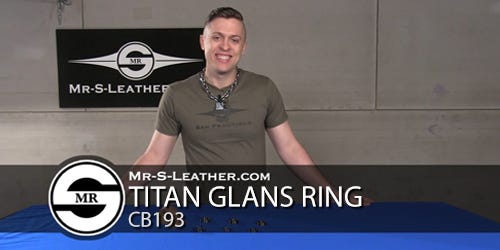 Titan Glans Ring

Simple and masculine, these glans rings from Gear Essentials will look great showcasing your manhood. Crafted from solid stainless steel here in the USA. The brushed finish gives it its sexy edge. The heft of this ring will weigh down the head of your dick creating a longer flaccid look. The ring stays put with the help of the squared interior rim.

With these glans rings you'll get a bigger dick head and a super powerful orgasm. Plus, since the ring masks the highly sensitive nerve endings beneath the head of your dick, you'll last longer! We've even heard that when you're walking these rings make it feel like you're getting a hand job. With one of these you'll be walking all damn day!
Diameter
Height
Thickness
1
1" (25 mm)
0.5" (12.7 mm)
0.25" (6 mm)
1 1/8
1.25" (28.5 mm)
0.5" (12.7 mm)
0.25 (6 mm)
1 1/4
1.75" (32 mm)
0.5" (12.7 mm)
0.25 (6 mm)
Measuring For a Glans Ring :

To fit properly, the glans ring should be loose enough to allow your penis to expand when erect, yet small enough to not slip past the corona when you are flaccid.

To measure yourself for a glans ring, take a string and wrap it around the shaft of your penis—just below the head. Mark the string on both sides where it comes together. (Measure when you are both flaccid and erect.) Remove the string and measure between the marks. These measurements will give you your circumference (both hard and soft). All men are created uniquely; however, we have found that there is generally a difference between the two measurements of anywhere from ½" to one inch.

You will also want to measure around the widest part of the head of your penis. (Make sure that you do not get a ring that is wider than this measurement.)