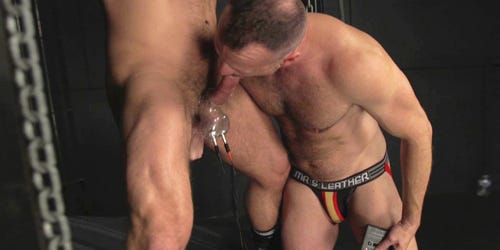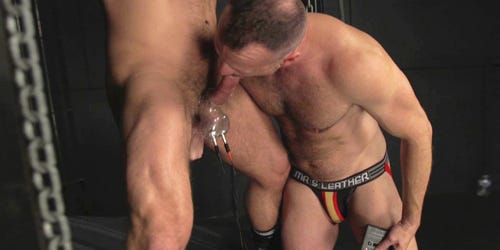 Electro Sacksling 2.0

The Electro Sacksling 2.0 will take your CBT play to the next level. Made from a super soft, elastic and stretchy Flexi-Skin material which is Ox's exclusive Silicone/TPR hybrid.

Ox took his original Cocksling design and morphed on a slick, stretchy sack for your balls. Your nutts are going to love the feeling of being encased in this super elastic, skin-like material. Two separate, easily adjustable contacts sit under each nutt. The adjustability means you can get the perfect contact to create the current. We recommend using a little electro gel to help increase the overall sensation. When the juice starts flowing your nutts are in for a torturous ride. The Electro Sacksling 2.0 sends sharp, electro jolts into your nutts so it's perfect for guys who like their balls played with rough.

The electro contacts are machined from solid aircraft aluminum, not thin copper film or mesh, so they provide excellent contact.

To get the Sacksling on simply slick it up inside and out with a waterbased lube, put your meat through the front hole and then just drop your balls inside the sack. There's a built-in ball ring that helps keep your balls in the sack. Even if you have high and tight nuts, this thing will grip your balls and feel like a second skin.
Powerboxes and accessories not included.
The electro contacts accept 4mm banana plugs. If you are using a box with 2mm pin plugs (such as our ElectraStim boxes) you will need our Pin to Banana Adapter (E107).

To clean wash in warm soapy water after use and air dry.
Diameter (Cock/Ball Hole)
Diameter (Cock Hole)
Diameter (Ball Hole)
Length
3" (7.6 cm)
1" (2.5 cm)
0.75" (2 cm)
5" (13 cm)