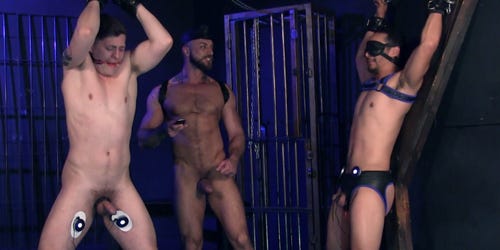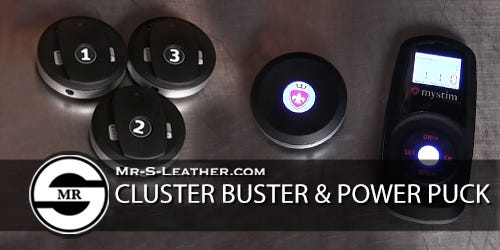 Cluster Buster Starter Pack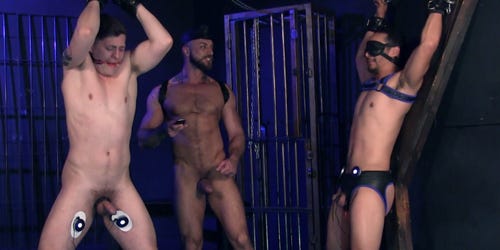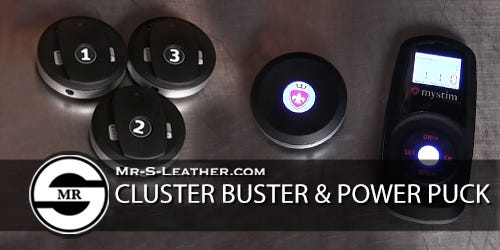 Cluster Buster Starter Pack

Hook up multiple boys with multiple toys with Mystim's Cluster Buster. This one of a kind powerbox lets you control an unlimited number of devices wirelessly. Features 12 stimulation programs, 5 training modes and a shock feature which allows you to send a max intensity jolt for a full three seconds. The starter kit includes the wireless powerbox and a channel 1 power puck/sticky pad so you can get to playing right out of the box. Fun, easy to use and unlimited possibilities for some really fun electro sex play!

Each remote has eight channels which allows you to simultaneously control eight different program or intensities all without cables! You can get as many pucks as you want across the eight channels. For instance you can get multiple channel 1 Power Pucks that will allow you to send the same program for all devices on this channel. If you want to vary the sensations you are sending out you can order power pucks in different channels. Each channel can be programmed separately for the sensation desired. With the Cluster Buster your only limitation is your kinky imagination!

You can identify which channel puck you are using by the number on the back of the attachment clip. This clip allows you to attach it to your electro pig's belt or jockstrap. The clip is removable which allows you to attach the included bi-polar sticky pad.

The lead wire on the Power Puck uses 2mm pin connections. You may require additional adapters to connect your toys. If you have any questions about connectivity feel free to shoot us an email at help@mr-s-leather.com and we will walk you through what you need.

The powerbox includes a lock feature which allows you keeps you from sending any accidental adjustments when you're on the go.

When completely discharged it should take approx. 2-3 hours to fully charge. During this time the device is not operable for your safety.

Electro play just got a lot more fun!
Product Info
In The Box

8 channels

10 intensity levels

12 stimulation programs

5 training programs

Intensity, pulse width and pulse rate are arbitrary for the user

The device can be preset and the switches can be locked

Extra-large display for a perfect readability in every situation

Simultaneous control of an unlimited number of toys

1 Cluster Buster (remote control)

1 Power Puck (receiver)

1 Lead Wire

1 Bipolar self-adhesive electrode

1 Double USB charging cable

1 Instruction Bookley

1 Protective Case