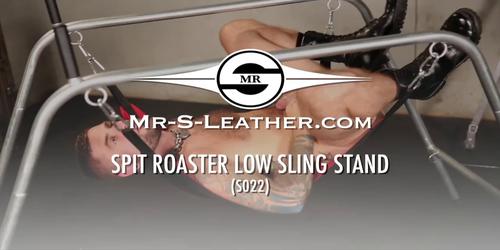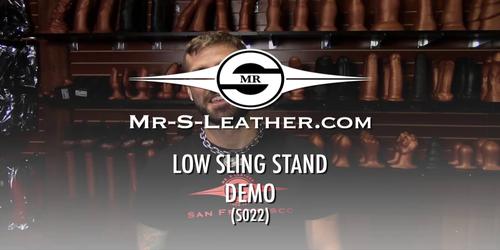 Spit Roaster Low Sling Stand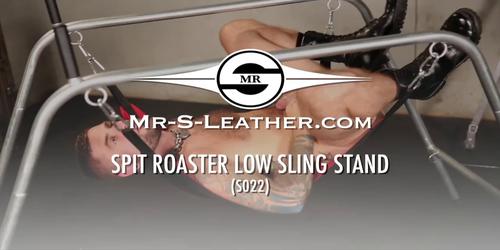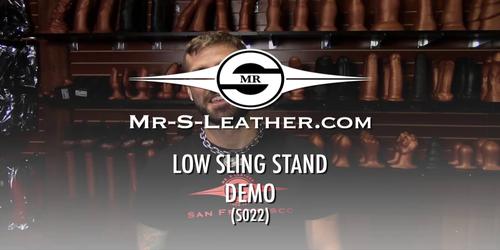 Spit Roaster - Low Sling Stand

You asked for it and we've brought it back. We've re-designed our original Low Sling Stand so you can have the same spit roasting good time at a more affordable price. Designed for fisting, fucking, toy play or a rough skull fuck. Whether it's just you and a buddy or four and more, the Spit Roaster lets everyone get in on the action.

Lightweight but strong and sturdy enough to support your weight as you grind your ass into a guy's face. The frame has two parallel bars that can support a muscle Daddy weight. When you're not fucking or fisting in it, get your dips in and work your triceps. It breaks down easy to get out of the way but once you remove the sling, it looks like a piece of workout equipment. Breaks down into just 8 easy to store pieces.

Rubber coated handles give you something to hold onto while you're ravaging that boy. Can also double as a set of stirrups that your sub can rest his feet on while you give him the fuck of his life!

Stand on the bottom bar on one end of the Spit Roaster while face fucking that hot bottom as you watch your buddy destroy his hole. It's fun for everyone! Since there are no chains, only pear clips, this sling stand is quieter than your traditional stands. We make no guarantees on the moaning and groaning your pig bottom will be making though!

Since it is such a unique piece standard slings will not work in this sling stand. We recommend using our canvas sling (S060) with a couple of pear clips. The shorter straps on canvas slings put the bottom at just the right position for anything you want to do to him.
Please note that our standard Duffel Bag will not work with the Spit Roaster stand. 
Sling not included
Check out our Low Sling Stand Kit (S022K) which gives you everything you need to start playing and save 10%. Please be advised: This is an Oversize/Heavyweight item and will have a shipping fee calculated at checkout.
Depth
Width
Parallel Bar Height
Handle Height
Weight
29" (74 cm)
75" (191 cm)
41" (104 cm)
46" (117 cm)
29lbs (0.5 kg)