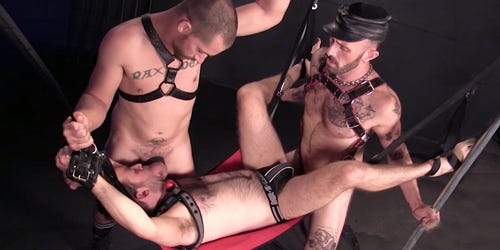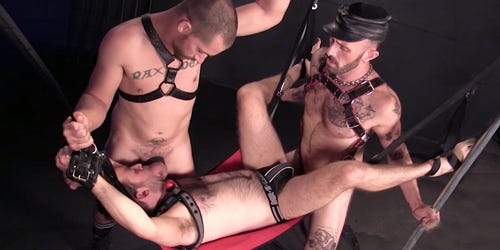 Tri Sling Frame

We've worked hard to bring you a sling we know you guys would love and it's finally here! Our objectives were to create something that met the following criteria:

-A lightweight design that would travel easy (including on the plane)
-A system that provided noiseless operation so the only noise anyone hears is your moans
-A sling stand design that was group sex friendly

With our Tri Sling Frame and our lightweight sling accessories, our dream can now be your reality. By using Y-Bar Connectors instead of the traditional X-Bar Connectors we've removed four bars to really open up the area around the sling and cut down on the overall weight. This new design will more easily fit into corners so it can be less obtrusive in your sex space. With the removal of the four bars we've been able to take the weight of the frame from approximately 51 pounds down to 34 pounds- making this our lightest sling ever. Plus, it's even easier for that second guy to come in and feed you his cock while your hole is getting worked over!

Made from a sturdy steel construction that can handle up to 350 pounds. Set up and tear down can be done by just one person, requires no tools and takes just a few minutes. Check out our video to see the assembly process.

But, you can't get fucked in the stand alone. That's where our new sling accessories come in. We've designed three lightweight accessories to accompany this stand. When added to the frame, the total weight comes in well under the 50 pound mark which makes it viable to take on the airplane with you wherever you're traveling.
Height
Width
Depth
73.5" (186.7 cm)
43" (109 cm)
65" (164 cm)
---
Grab our Duffle Bag For Sling Stands for easy storage and travel.

You can use any Three Point Sling with this frame, including our leather tri slings. What if you have a Four Point Sling that you absolutely love? Well, we've designed the Four Point Bar to be attached to the sling frame to provide the four anchor points you need to secure your sling to the frame.

Sling stand only. Additional accessories available. If you would like to purchase the complete kit, check out our Ready to Fuck Tri Sling Kit (S030K).
Please be advised: This is an Oversize/Heavyweight item and will have a shipping fee calculated at checkout.