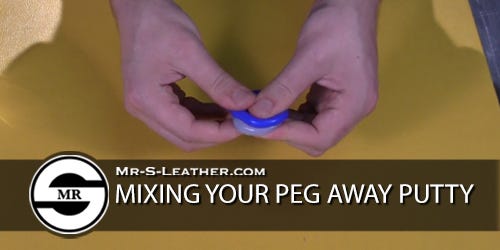 Peg Away Putty: Just The Spots! Kit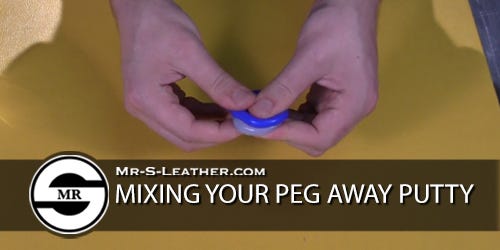 Peg Away Putty: Just The Spots! Kit

Introducing Peg Away Putty™, the first ever 100% Platinum grade silicone putty for modifying your favorite silicone toys and plugs. Peg Away Putty™ is designed to be used on silicone toys that you already have, to make them more interesting, more fun, and better able to do things you always wished your toys could do.

Peg Away Putty™ is yet another game-changing innovation from the creative mind behind SquarePegToys®. Everyday in the studio, Scott gets to create whatever toy might strike his fancy, but now he's put the power of imagination and creativity into your own hands. For the first time ever, having a Dalmatian tail is now a possibility. Believe it. And not only that, but you can be assured that your tail will be unique because YOU decide the pattern, not some factory.

Inside the kit you'll have just the right amount of black putty to make a spotted Dalmatian tail from your plain white one (or be creative and use it on any colored silicone tail).

It doesn't take much to make a spot, so work in small amounts to get the best results. Putty gets warm quickly when the amount is small, so it starts to set in only 5 minutes, Do not mix all at once or you will run out of time to use it all before it sets.

Be sure to check out these instructions before you begin. Your only limitation is your imagination!

Important Info about Using Peg Away Putty

Applying Peg Away Putty is permanent and will void the warranty of the toy it is used on. No returns will be accepted on these toys.

By using this putty, you acknowledge awareness of, and assume the risks involved with, not getting a proper bond to adhere, and, your responsibility to create a shape or device that does not present a safety risk to you or others. Always check your work before each play session by giving your modifications a good tug. You also agree to assume full responsibility for the safety and effectiveness of the toys you create. SquarePegToys® or Mr. S Leather will not be liable for injury caused by your own design work or lack of obtaining a proper bond.

Images of completed work are only examples of what can be done with the Peg Away Putty™ kits, and are not a guarantee of what you will obtain. They are intended to demonstrate the amount of Peg Away Putty™ you might need in order to achieve your own personal design.

If you are unsure whether or not Peg Away Putty™ will adhere to a toy, test first with a small amount on the base of the toy. As formulas can change over time, assurances cannot be made when it comes to the reliability of Peg Away Putty™ adhering to product lines other than SquarePegToys®.