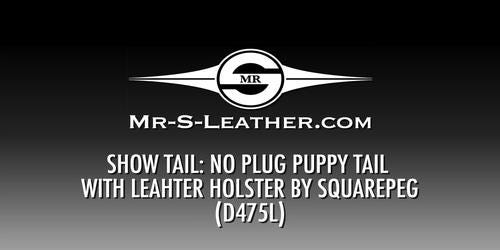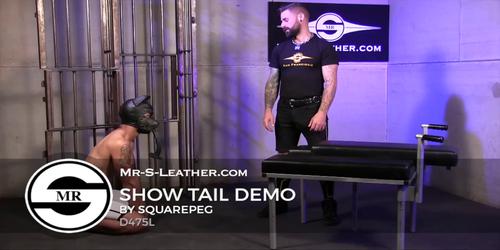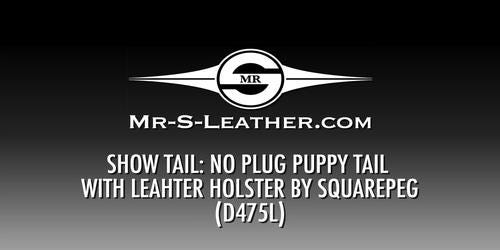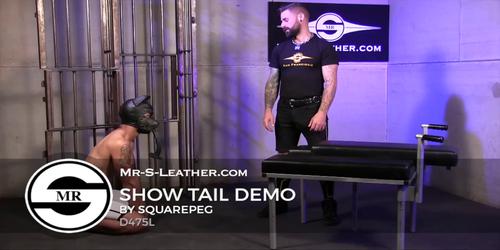 Show Tail - Square Peg

The pups have been asking for this product for years, and now the boys over at SquarePeg have made puppy dreams come true. Woof woof woof!!! The Show Tail No Plug Puppy Tail is perfect when you want to really romp really hard in the pit. No more worrying about your plug falling out. Also works great if you want to be bi-pedal. Made from 100% silicone like all of the other toys from SquarePeg. The same great puppy tail design but without the plug. Available in all black or in a variety of puppy breed colors.

Included with the tail is a Show Tail Holster that will allow you to attach it directly to your belt or to one of our butt plug harnesses. Can be used with belts up to 2" thick.

The 100% silicone tail can be turned inside the adapter so you can easily use the tail on your belt or on a butt plug harness. To use on your belt turn the tail to the upright position. The two slots on the Plugless Puppy Tail Adapter Plate should be vertical (on the left and right side of the tail). Start to put your belt on but stop just before the middle loop in the back of your jeans. At this point feed your belt through the left slot of the holster. Now put your belt through the middle back loop of your jeans. Feed your belt through the right slot and then finish putting your belt on like you normally would. When you put it on this way the back middle loop on your pants acts as a nice support mechanism to ensure that the tail stays nice and centered.

To use on a butt plug harness turn the tail to the upright position. Twist the adapter plate so the slots are horizontal (on the top and bottom of the tail). Feed the back strap of your butt plug harness through the bottom and then the top slots and then attach to the waist belt.

Belts and Harnesses are Sold Separately.