Can I pick up my order in person (will call)?
Yes, In-Store Pickup is available daily from 12pm to 6pm.
When placing your order, please choose California as the state for your Shipping Address, and you'll then see "Will Call" as a free shipping option. We will text you once your order is ready for pickup, so please make sure we have your cell phone number to reach you at.
For same-day pickup, please have your order in to us by 5pm. There are two parking spots blocked for pickup customers on the corner (don't let the red No Stopping sign deter you).
We are also open for In-Store shopping as well!
Back To Top
When will my order ship?
We know how important it is to get your order processed quickly. Our goal is to have all orders placed by 12pm Pacific shipped that same day, Monday through Friday. Orders placed with UPS 1-Day, 2-Day, or 3-Day service will ship that same day if placed by 2pm Pacific, Monday through Friday.
UPS does not pickup on Saturday and Sunday. Orders placed on Friday afternoon through Monday morning will ship on Monday. USPS does allow for packages to leave mid-day on Saturday, so some orders from Friday afternoon and Saturday morning will leave Saturday, while orders from Saturday afternoon and Sunday will ship on Monday.
Back To Top
How much will shipping cost?
Our shipping model is geared to give you, our customers, more opportunities for free domestic shipping. Free shipping options start at orders totaling $49.00.
Some locations like APO/Military, PO Boxes, Alaska, Hawaii, and US Territories may show fewer options upon checkout.
| | | | |
| --- | --- | --- | --- |
| Order Value | Shipping Methods | Cost | Delivery Timeframe |
| Up to $48.99 | USPS Post | $8 | 2 - 6 Business Days |
| | UPS Ground | $ 12.00 | 2 - 6 Business Days |
| | UPS 3 Day | $ 16.00 | 3 Business Days |
| | UPS 2 Day | Calculated | 2 Business Days |
| | UPS 1 Day | Calculated | 1 Business Day |
| $49 - $149.99 | FREE STANDARD | FREE | 2 - 6 Business Days |
| | UPS 3 Day | $ 16.00 | 3 Business Days |
| | UPS 2 Day | Calculated | 2 Business Day |
| | UPS 1 Day | Calculated | 1 Business Day |
| $150 - $224.99 | FREE PRIORITY | FREE | 2 - 4 Business Days |
| | UPS 2 Day | Calculated | 2 Business Days |
| | UPS 1 Day | Calculated | 1 Business Day |
| $225+ | FREE RUSH | FREE | 2 - 3 Business Days |
| | UPS 1 Day | Calculated | 1 Business Day |
Please note: Oversize & Heavyweight items will show calculated shipping rates and are exempt from Domestic Free Shipping
Back To Top
Which companies do you ship with?
We know shipping fees are a pain. So in order to keep them low (or Free), we use both UPS and USPS to get you packages economically depending on the size a distance your order needs to travel.
USPS (Post) is required for PO Boxes, US Territories, APO/Military addresses, and non-expedited shipments to Hawaii, Alaska, and Puerto Rico. Shipments via US Post usually take between 2 - 5 days from date of shipping for delivery but do not have a guaranteed delivery time.
UPS provides excellent tracking of your package, guaranteed delivery dates, and a transit time of 1 - 5 business days from the date of shipping, depending on your distance from San Francisco (see map below). UPS does not consider Saturday or Sunday as "travel days", nor do they pickup from our shop on these two days.
The map below represents shipping times in business days using UPS Ground delivery once your package has left our store.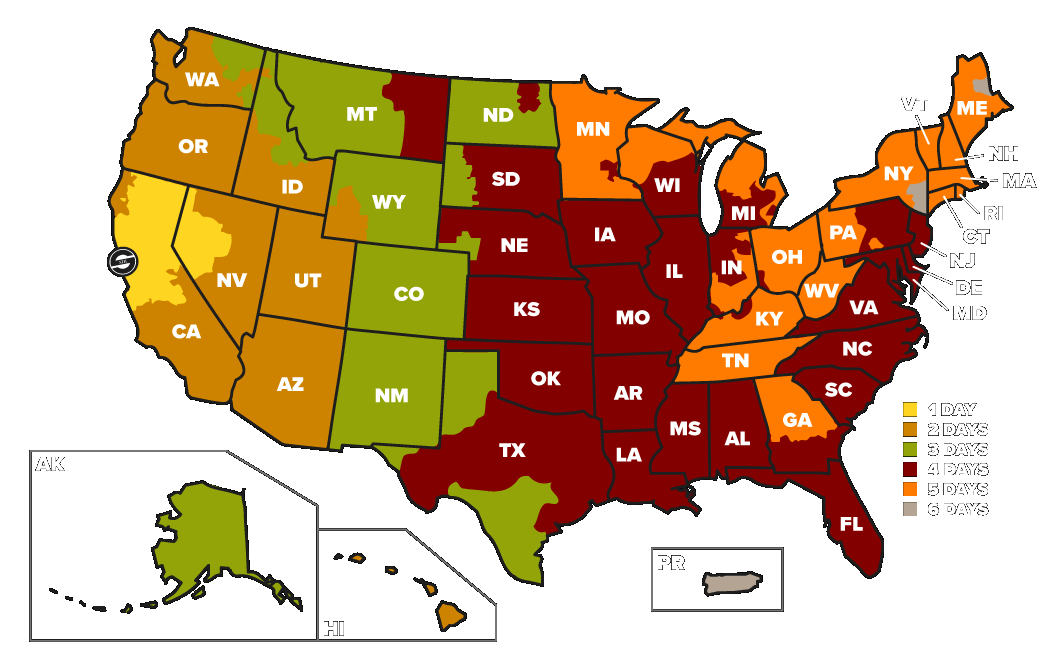 Back To Top
Is rush service available?
For domestic US shipments we offer UPS 1-Business Day & UPS 2-Business Day service (including major metropolitan areas of Hawaii, Alaska, and Puerto Rico).
Rush service cannot be guaranteed for for APO/Military, PO Boxes, or US Territories.
If you would like a quote for shipping charges, please select your items and proceed to the checkout page. Once you have entered your state and zip code in the shipping fields you can see your calculated shipping rate in the Shipping Method menu.
Back To Top
Do you ship orders internationally?
We ship orders all over the world every day.
UPS International is our primary carrier to other countries. They are a door-to-door carrier service that usually delivers your package between 2-4 business days from date of shipping. They offer excellent tracking information the entire route. However, they will likely collect duty and tax (VAT) when delivering as these taxes are not added to our retail pricing.
To Canada, we use USPS. They are quick to deliver and cost considerably less than UPS, and they more likely to not collect VAT at the time of delivery.
Back To Top
What is the cost of shipping internationally?
Shipping fees are dependent on which country the order is shipped to. While most orders have a flat rate shipping fee, there are items that have a calculated rate due to being oversize or heavyweight. To find out the flat rate shipping costs to your country, click the link below:
International Duties and Taxes:
VAT is not added to the base price of our items. International orders are subject to import duties and/or taxes (VAT) for countries that require them. These fees are the responsibility of the receiver and will be collected at the time of delivery. Failure to pay these fees may result in your package being held by the carrier. Packages returned for such reasons will incur a secondary shipping fee if reshipped. Although it is rare, should customs officials seize an item, Mr. S Leather cannot be held responsible.
While we maintain a high level of discretion for all of our orders, International Post packages require itemized documentation on the exterior of the package. UPS International orders have digital customs documentation that cannot be read without a computer scanner.
Back To Top
How will my order be packed?
We very much understand the need for discretion and privacy. All packages are shipped in plain brown boxes or plain padded envelopes, and contain the following return address:
M.S.L.
385 8th Street
San Francisco, CA 94103
Back To Top
Will I be able to track my order status and my package?
Yes, we will email you a shipping confirmation letter with tracking info once your order is ready for the carrier.
UPS picks up Monday through Friday evenings, so tracking information may not be available until later in the evening (once a package reaches the distribution center here in SF). UPS Tracking information created over the weekend will be available on Monday evening.
USPS (Post) picks up Monday through Friday afternoon, and on mid-day Saturday. Tracking information from Saturday afternoon and Sunday will be available when they pick up again on Monday. Unlike UPS, Post tracking does not update at each step along the way. It is normal for a day or two to pass without updates as packages travel between major distribution centers. If you package does not arrive as anticipated, please be patient – orders do arrive, and we cannot replace packages until at least 15 days have passed since the order left our building.
All customers will receive an email when the tracking information is created. Customers who place orders under a registered online account can login to the website at any time to see an orders status and retrieve tracking information. To ensure receipt of these important emails, please ensure we are white-listed through your email service provider. If you do not receive an email, please let us know and we will be happy to update you on your order status.
Back To Top
---