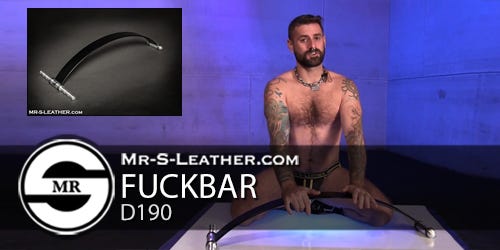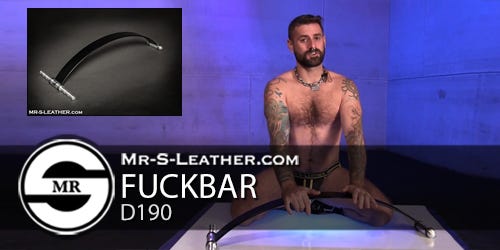 FuckBar
We're super excited to be the first company in the US to carry this extremely versatile sex toy. There are so many fun ways to use the FuckBar that you'll never get bored. Designed to be used with suction cup toys, just attach it to the bar and take it for a ride. Made from an aircraft grade aluminum so it's strong and lightweight (just about six pounds). The unique, non-intimidating design packs away easily when you're done too.

The arc platform allows you to sit down comfortably on your favorite suction based toy. You can place the dildo wherever is the most comfortable so it's all about you! Forget about using a mirror or your toilet seat. Now you can ride that toy literally wherever you want. Turn the FuckBar upside down and you get a fun see-saw effect. Rock that toy up your hole as hard as you can handle! You can also prop the FuckBar against a wall, chair or pretty much anywhere your piggy heart desires.

Have a toy you really love that doesn't have a suction cup? Just grab one of our FuckBar Dildo Harnesses (D192) and you're good to go.

• The long handle helps balance the FuckBar and gives you control when you want to use it in the rocking position. The short handle also helps with balance and ensures you don't knock your ankles as you deep dick your hole.

• Stores easily under the bed or in the closet

• Clean up with soap and water or grab some Nexus Toy Wash (M201). Do not use bleach as this may corrode the aluminum.

• Safe with all lubes

Once you give the FuckBar a try you'll be in pig heaven!
FuckBar Dildo Harness and dildos sold separately.
Length
Max Width
Arch Width
36.2" (91.9 cm)
14.7" (37.3 cm)
3.14" (7 cm)
Please be advised: This is an Oversize/Heavyweight item and will have a shipping fee calculated at checkout.